Protect your small business without the price of a lawyer.
Take our "everything you need to know" course on trademarks and save all the attorney fees.
If you answered "YES" to any of the above, this course is for YOU! 
Get the course TODAY, file your trademark TONIGHT! 
The Trademark Course is for:
the start-up entrepreneur!
the established entrepreneur!
the side-hustler, doing their thing!
who need trademark protection but do NOT want to spend THOUSANDS!
We created the ultimate guide to help you – the small business owner – learn all about trademarks and the process of filing for trademark applications all on your own, without the overwhelming price tag of a trademark attorney. 
In this course, Andrea Sager- Legalpreneur founder and serial entrepreneur, teaches you everything you need to know about trademarks, the trademark process from start to finish, and her insider tips to give you the freedom to file trademarks on your own while saving thousands!
Watch Andrea on Fox Houston Talk Trademarks!
Watch Andrea on Fox Houston talk about the difference between trademarks and copyrights, and how small businesses like yours can protect yourself by gaining the knowledge that you'll get in this course.
What Will I Learn About Trademarks And What's Included?
In this course, you'll learn: 
We'll teach you everything you need to know in 6 Modules. Each Module comes with Bite Size Videos of Andrea breaking down every step of strategizing your trademarks, applying for your trademarks, and enforcing your trademarks + Worksheets to practice your new Legalpreneur skills!
What is it, why you need it, and more.
How to conduct your search, handling trademark infringement, and more.
The Trademark Application:
Owning the application process from start to finish.
Your plan of attack to take your application over the finish line.
Opposition & Cancellation:
Knowing the difference and what your options are.
How to handle these processes once you're registered.
All 6 modules are designed to give you exactly what you need to understand the ins and outs of trademarks and how to execute the trademark process on your own, all at your own pace.  Sign up now and get your first trademark application filed TONIGHT!
Is this awesome or is this AWESOME?
The course itself is valued at $4,997!
Start The Trademark Course Today!
Join Now And Receive These Bonuses Valued at $4k+:
The g[LAW]ssary- $99 Value
A copy of our gLAWssary outlining important legal terminology in a simplified, easy-to-understand way. 
Andrea's Specialized Trademark Search Method- $950 Value

Andrea Sager breaks down her own specialized trademark search process that "Big Law" firms don't even have their hands on. 
A FREE Licensing Agreement- $850 Value

Use this agreement when you've secured your first licensing deal!
Access to the Legalpreneur Facebook Group- $2,600 Value

Get exclusive access to all things Legalpreneur, where Andrea provides monthly legal education,  updates, tips, support with the trademark process and more to help you protect your business! 
Got it, So How Much Are We Talking?
Check out your options below:

PAY IN FULL
Full course access and all bonuses!
PAYMENT PLAN
Full course access and all bonuses!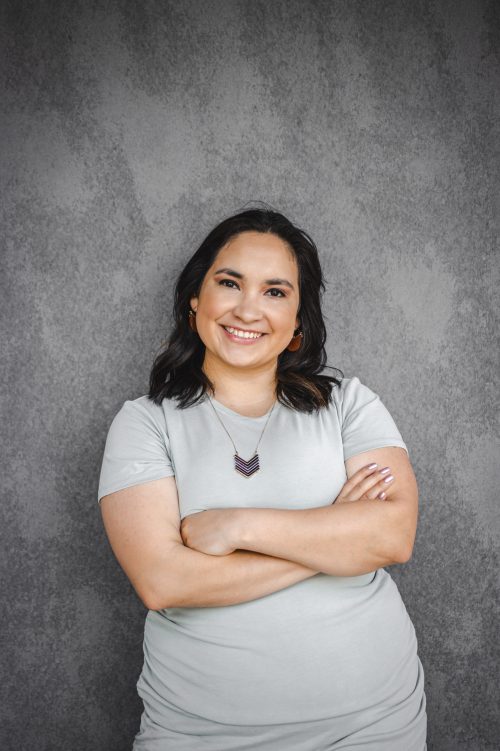 Legalpreneur LLC is the GO-TO legal resource for online businesses.
Andrea Sager is your very own go-to attorney for small business. After spending just 7 months at a large law firm, Andrea quickly found out "Big Law" was not the place for her. She was told from the beginning that small businesses were not "quality clients." As a serial small business owner herself, Andrea knew that was not true. It was that defining moment that made her want nothing more than to fill the gap between small businesses and affordable legal services.
Ok, but are TRADEMARKS really that necessary?
Your small biz peers have a little something to say about this, so listen up!
A Special Note from Andrea
"Trademarks don't just protect against the same exact name. They protect against anything similar enough that customers are likely to be confused. This means that over 50% of entrepreneurs are either infringing on someone else's trademark, or someone is infringing on their trademarks…. and they don't even know it!
At Andrea Sager Law PLLC, we regularly handle infringement matters, which could have all been avoided if the trademark side of things would have been handled from the beginning. Yes, from the beginning! It doesn't matter if you haven't even launched your business, or you've been in business for over 10 years. Businesses at ANY stage will benefit from trademark protection!
So why our course over others?
I have unique experience in the online world, not just as an attorney, but as a serial entrepreneur with multiple ventures. I bring my business experience along with my legal experience, so you get the best of both worlds. We've created this course with the online entrepreneur in mind, and we have drilled down the most important issues to ensure our course provides the best understandable process possible."
 —Andrea Sager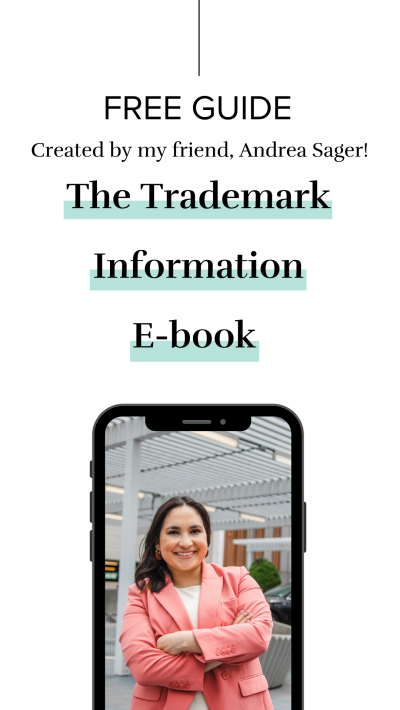 Want more information about Trademarks?
The Trademark Info E-book
We created the Trademark Info E-book to help you – the small business owner – learn the trademark basics and the process of filing for trademark applications.
Download your FREE Trademark Info E-book TODAY and drop the gavel on the constant fear that someone is going to steal your stuff.  Take action & ownership of what is yours!