the easy way.
affordably.
and have fun doing it.
No matter what stage of business you are in, you need to protect your assets.
To have a truly successful business, you have to BOSS UP and protect your most valuable assets. Including your ideas, your products, and your brand.
The legal industry is archaic. We focus on affordable legal services for entrepreneurs,
and being there when you need it most.
Welcome to a whole new approach to the legal industry.
The Legalpreneur™ Difference
App
The Legalpreneur™ App
Simplify all of your legal needs in one app: your attorney/client communication, customizing your own contracts, and so much more!
Education
We simplify legal for entrepreneurs and become their biggest champions, so they can make their positive impact in the world.
Maybe 'legalese' scares the crap out of you (we get it), but you should know the truth… it's only scary when you aren't protected. 
Partner with us and we'll do what we do best: take care of the "fine print" so that you can grow your business. Because the last thing you should be worrying about when you're scaling is whether or not your contracts are legit, if your website is in compliance, or about the security of your intellectual property.  
FREE DOWNLOAD + FREE GIFT
The Ultimate Business Legal Checklist For Entrepreneurs Terrified Of The Legal Stuff
Exactly everything you need to legally set up and protect your business from infringers and the government.
This is a free resource guide from Legalpreneur Inc. and payment is NOT required. By opting in, you agree to receive emails from Legalpreneur Inc. You can unsubscribe at any time.
The Legalpreneur®️ Podcast
Navigating the legal side of your business can be intimidating and expensive. Each week, join Andrea Sager, former big law attorney turned lover of all things small businesses, as she explains the legal necessities for small business owners. Whether you want to start a business, just launched a business, or have been in business for years, you will learn from Andrea and the world's most elite entrepreneurs on how to legally protect your business; and just how simple it can be.
Not all lawyers are old men wearing a three-piece gray suit.
We are fun. We are funky. We are non-traditional. We know our shit when it comes to legal and protecting your business.
Annnnnnd we're here for you.
Not all lawyers are old men wearing a three-piece gray suit.
We are fun. We are funky. We are non-traditional. We know our shit when it comes to legal and protecting your business.
Annnnnnd we're here for you.
Meet the Lawyer behind the Legalpreneur who is disrupting legal for businesses by PREVENTING issues before they even come up.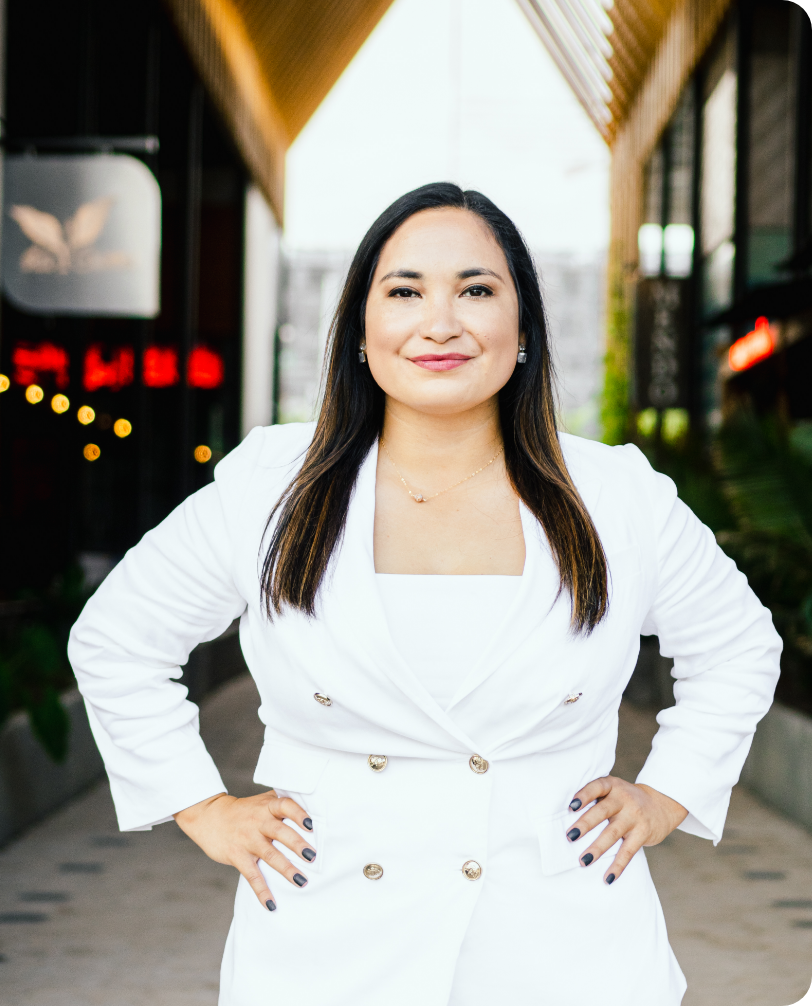 As a serial entrepreneur and a lawyer, I know first-hand how important it is for businesses of any size or stage to have legal support. That's why I left behind big law to follow my true passion: helping other entrepreneurs meet their fullest potential by leveraging the power of the law for an affordable price.
When you sign up with The Legalpreneur, you're not just getting an affordable attorney, you're getting another entrepreneur with years of experience running multiple businesses who can relate to your unique needs. I've walked miles in your shoes, and then some. The Legalpreneur is just what its name suggests, the best of both worlds: legal and business expertise.
"I love being a Legalprenuer Member for SO many reasons but peace of mind and convenience are at the top of my list.  Being a small business owner you wear so many hats and knowing I have a lawyer I can trust on my team is priceless.  We have used the contract vault for years, had trademarks done, and received priceless legal advice. Cannot recommend this service enough."
Cat Golden
Owner + Founder
www.nursesinspirenurses.com
"Working with Andrea/The Legalpreneur Team is one of the best investments I've made in my small business.  She has been extremely proactive, helpful and kind in helping me navigate all of my legal questions (and there have been a lot.)  Having the peace of mind of an attorney in your corner is something that I will never take for granted.  There is no better feeling than knowing my business is operating to the best of its ability, and I have Andrea to thank for that."
Dana Kramer
Owner + Founder
www.hausofgravity.com
"I'm blown away with everything I've received from the Legalpreneur. I filed my first trademark, have a go to for contracts and updates to legal terms, and I love being a part of the Contract Vault as an affiliate for my clients. It's a perfect additional resource to have for them! Thank you for everything you guys do for entrepreneurs!"
Danielle
Owner + Founder
www.danielleuhl.com
"The Legalpreneur helps when dealing with difficult situations, contract writing, my LLC, and trademarks. I've been so happy with Andrea's team that I consistently refer her to clients and friends."
Elaine Lou
Owner + Founder
www.elainelou.com
"Working with Andrea Sager and the Legelpreneur team has been one of the best decisions for our business! When we first started looking into attorneys, we were crippled by the pricing models we were quoted, so when we discovered the Legalpreneur membership, we were blown away by the extremely affordable pricing AND the amount of services available to us! Andrea and her team go above and beyond, not only with legal services, but also with general business development tips and strategies. The Legelpreneur membership allows us to have more peace of mind as we help others master their mind!"
Suranee Waleszonia
Co-Founder + COO
www.killingburnout.com
Join the Legalpreneur Mailing List!
From FREE legal resources to the launch of new Legalpreneur opportunities, be the first to know by joining our mailing list of entrepreneurs who understand the importance of legally protecting their business, brand, intellectual property, and more!